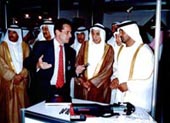 The resources of a group.
The agility of an entrepreneur.
Throughout its 140-year history, Trouvay & Cauvin Group has been able to overcome every major crisis it has faced, ranging from world wars to its own restructuring in 2002 and the economic crisis of 2009.
Entrepreneurial by nature
At each critical juncture in our history, we have remained on a clear path. Our secret? Entrepreneurial spirit and unmatched expertise.
The roots of our spirit can be traced back to our long-standing relationship with the energy industry. Meeting the challenges of this fast-moving, cyclical sector has forged our character. Generation after generation, we have sought to combine agile thinking with reliable capabilities.
This has enabled us to become a trusted partner of energy companies around the world, who count on our unique expertise to deliver innovative, reliable solution in challenging conditions. As our reputation has grown, other industries have started calling on this same expertise, which has enabled us to expand into critical sectors, such as offshore and onshore production facilities, major infrastructure projects, water treatment and industrial processes.
Today, our spirit is found at the very heart of the solutions we are providing. Everyone at Trouvay & Cauvin Group is dedicated to doing what we do best: delivering project piping packages that leverage our stocks, logistical capabilities and services. Our international team, which spans the globe from Seoul to Houston, stands ready to meet your global requirements with a local approach.
Channelling energy between you and us -- this has been our spirit for over 140 years.
Laurent Marie
Executive Chairman