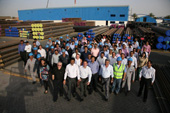 It should come as no surprise that Trouvay & Cauvin Group is the global piping solutions provider of choice on some of the world's most ambitious and challenging projects. Over the past 130 years, we have forged a reputation for unique capabilities and knowledge built on rock-solid values.
Excellence
We give you the best. We always provide the best products and technical solutions. We also pride ourselves on the excellence of execution and the quality of the human relationships we have with our customers. With Trouvay & Cauvin Group, you never have to compromise.
Trust
We give you our word. In the high-stakes world of industrial and construction projects, you can count on us to be there from start to finish. Not only do we keep our promises, we make sure the job gets done. You can count on us to be there today and tomorrow, just as we have been for over 130 years.
Competitiveness
We keep you on budget. Our prices are always fair and we focus on total cost of ownership in order to help you manage costs over the life of the project. Moreover, innovative contractual services, such as fixed pricing and buy-back, help you optimize your budget management.
Peace of mind
We keep you on time. Our operations are scaled and organized to meet your logistical and operational requirements. Thanks to our logistic platforms and stock levels that none of our competitors can match. Our technical services, such as valve actuation and repair, make owning a solution from Trouvay & Cauvin Group as easy as buying one.
Social responsibility
We care. Thanks to our longstanding involvement in the energy sector, early on we developed clear and comprehensive policies governing the way we handle the environmental, health and safety issues that affect our business, our people and our communities. But these policies would be nothing if it weren't for the dedication of our people. We place them at the heart of our company, and make significant investment every year in their health, safety, training and career development.