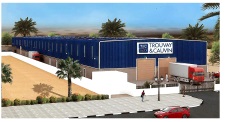 Expansion of TROUVAY & CAUVIN's main facility in Jebel Ali Free Zone, Dubai, U.A.E.
The expansion of TROUVAY & CAUVIN's main logistic platform and facility in Jebel Ali Free Zone is fully underway and it is expected to be completed in September 2019.
Following the strong business growth registered in the past few years, the existing and historical facility of TROUVAY & CAUVIN, conveniently located near the Jebel Ali Port, had become too small for running  efficiently our operations. The expansion was hence a necessity for the Group to continue to bring the same high level of service to our Customers in the Middle East and the African continent.
This major expansion consists in the addition of a 10,000 sqm plot to our original 19,000 sqm yard. The full refurbishment of a 6,000 sqm warehouse in the new plot, associated with the construction of a light  piping spool fabrication shed will allow the warehousing capacity in our Jebel Ali facility to jump to 9,000 sqm.
This major development will allow TROUVAY & CAUVIN to streamline its operations and to increase the range of products kept in inventory readily available to service our Clients and their projects. In addition the new facility will enable a significant development of the range of services that TROUVAY & CAUVIN is already performing in-house.